A man has died and 10 people have been injured after a man drove a van into worshippers near a north London mosque.
Eight people were taken to hospital after the "terrorist attack" near Finsbury Park Mosque, police said.
A group of people were helping a man who had collapsed when they were hit by the van just after midnight. The man has died, but it is unclear whether this was as a result of the attack.
A 48-year-old man has been arrested on suspicion of attempted murder.
Police said all the victims of the attack, which took place outside Muslim Welfare House, were Muslim.
Eyewitness Abdul Rahman said the driver had said he wanted to "kill all Muslims" and told the BBC he struck the man and helped subdue him.
Metropolitan Police's deputy assistant commissioner Neil Basu said the "terrorist attack" began when the van was driven into a man who was already being given first aid by the public on the pavement.
"Sadly that man has died. It is too early to state if his death was a result of this attack."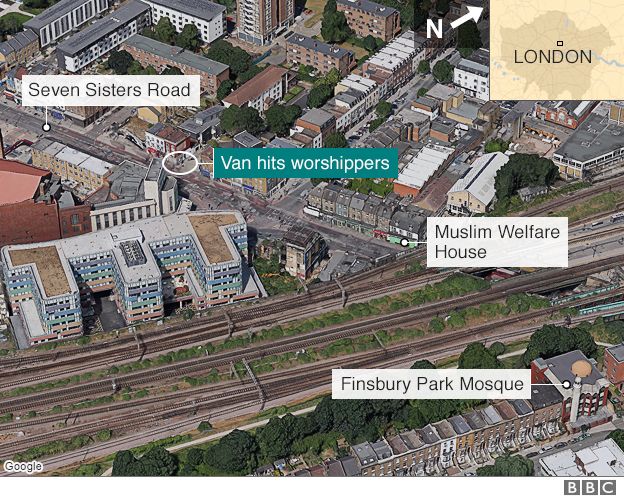 Several of those in hospital are "seriously injured" and there are currently no-other suspects, he added.
Earlier, police also said the arrested man would be "subject of a mental health assessment in due course".
Extra police are being deployed to reassure communities, especially those observing Ramadan, Mayor of London Sadiq Khan said.
He also said his "thoughts and prayers" were with those affected by the "horrific terrorist attack on innocent people".
"While this appears to be an attack on a particular community, like the terrible attacks in Manchester, Westminster and London Bridge it is also an assault on all our shared values of tolerance, freedom and respect."
Forensics officers are examining a white van which has Pontyclun Van Hire on it – a firm from Rhondda Cynon Taff in south Wales.
Mr Rahman, an eyewitness, said: "When the guy came out from his van he wanted to escape, run away and he was saying 'I want to kill Muslims. 'I want to kill Muslims.'
"I hit him on his stomach… and then me and the other guys… we held him to the ground until he couldn't move. We stopped him until the police came."
Another witness, who gave his name as Abdul, told the BBC the arrested man was shouting "kill me, I've done my job".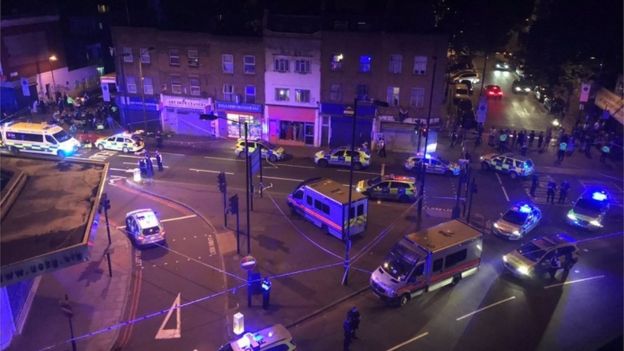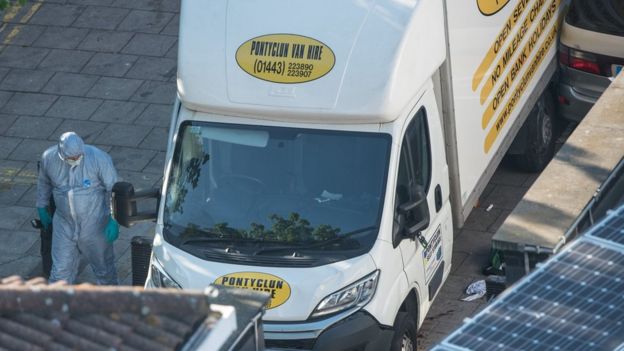 Harun Khan, secretary general of the Muslim Council of Britain said: "Over the past weeks and months, Muslims have endured many incidents of Islamophobia, and this is the most violent manifestation to date.
"We expect the authorities to increase security outside mosques as a matter of urgency."
Many of the victims are believed to have just left evening prayers at the Muslim Welfare House after breaking the Ramadan fast.
It has appealed for calm, adding that "all of our efforts should be towards getting justice for the victims and ensuring our community stays the diverse, tolerant and welcome place we know it to be".
Prime Minister Theresa May will chair a meeting of the emergency Cobra committee later, after which she will give a statement.
She described it as a "terrible incident", adding: "All my thoughts are with those who have been injured, their loved ones and the emergency services on the scene."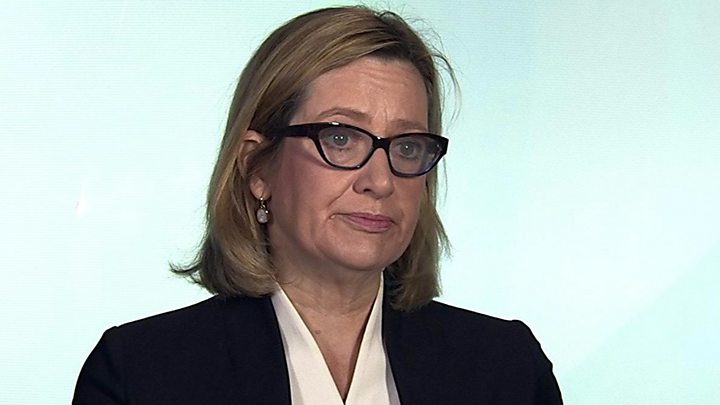 If confirmed as a terror attack it would be the fourth such incident in the UK in four months, after attacks in Westminster, Manchester and on London Bridge.
The van driver was arrested after being detained by members of the public at the scene following the collision at 00:20 BST.
Police said there were no reports of anyone suffering from knife injuries after speculation at the scene the driver was armed with a knife.
Abdulrahman Saleh Alamoudi said he was among a group of people helping an elderly worshipper who had fallen down when the van swerved towards them.
Video posted online of the aftermath showed a scene of chaos as people tried to help the injured.
One man could be seen giving CPR to a victim in the street while another man's head injury was treated with a makeshift dressing.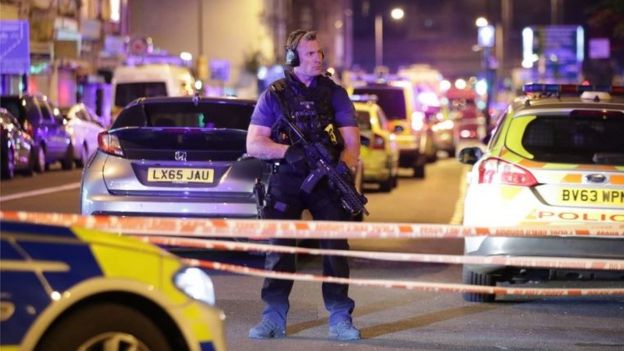 An eyewitness told how he jumped out the way of the van as it struck.
He said: "He just came into all of us. There was a lot of people. We got told to move straight away.
"I was shocked, shocked, shocked. There were bodies around me.
"Thank God I just moved to the side. I just jumped. Everyone is hurt. Everyone is actually hurt."
BBC London's Sarah Lee, at the scene, said the atmosphere around Finsbury Park was "one of anger".
"People of all nationalities are expressing their concerns and frustration at the latest attack on the city.
"It's clear people are concerned about possible revenge attacks in the upcoming weeks."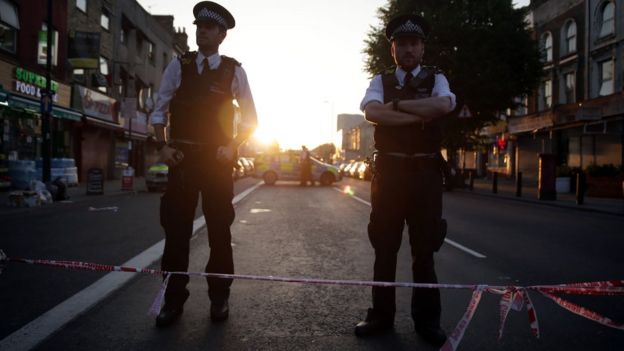 Another who lives in a flat on Seven Sisters Road told the BBC she saw people "shouting and screaming".
"Everyone was shouting 'a van's hit people'.
"There was this white van stopped outside Finsbury Park Mosque that seems to have hit people who were coming out of the mosque after prayers finished."
She said the road was "backed up" with police cars, ambulance and fire engines.
---
Analysis
By Dominic Casciani, BBC home affairs correspondent
This is not the first time that Muslims have been targeted in an apparent act of terrorism in the UK – and all the signs are that this terrible incident is nothing short of that.
The threat from extreme right-wing groups has been growing in recent years – 16% of all terror arrests in the year to March were classed as "domestic extremism".
Those who have turned to violence have tended to go for visible Muslim targets – namely mosques.
In 2013 an extreme right-wing Ukrainian man murdered a Muslim grandfather in Birmingham and tried to bomb three mosques.
The following year saw the jailing for 10 years of a man from north-west England who was researching bomb-making and mosques to target.
And just last December the home secretary banned "National Action", a group whose supporters have been investigated for planning violence.
---
Home Secretary Amber Rudd described it as an appalling incident, and said new funding for security at religious sites had recently been arranged.
"We have a places of worship fund which we announced last summer, which is there to protect places of worship like mosques. We will make sure that we do all we can to reduce these sort of attacks."
Environment Secretary Michael Gove said the attack was a "disgusting and immoral act".
"Words fail me that someone could find it in their heart to behave in this way."
Labour leader and Islington North MP Jeremy Corbyn said on Twitter: "I'm totally shocked at the incident at Finsbury Park tonight.
"I've been in touch with the mosques, police and Islington council regarding the incident. My thoughts are with those and the community affected by this awful event."
Mr Corbyn also said he would be attending prayers at Finsbury Park Mosque later on Monday with Islington Council Leader Richard Watts.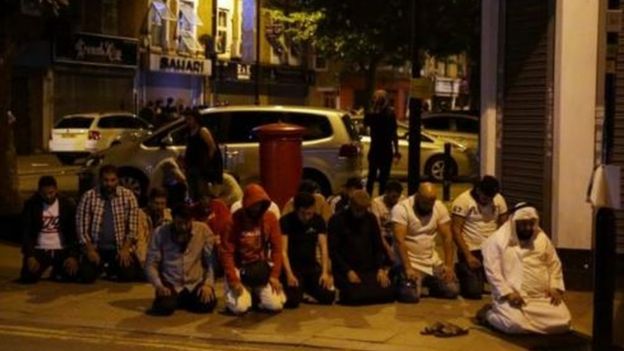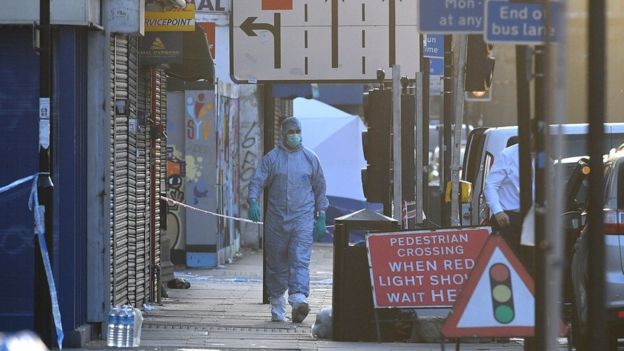 Labour's shadow home secretary and Hackney North and Stoke Newington MP Diane Abbott said on Twitter that police "must urgently review security for all mosques".
Green Party co-leader Caroline Lucas said she was thinking of the community and emergency services, adding: "We will not be divided."
Witness Cynthia Vanzella said on Twitter: "Horrible to watch police officers doing cardiac massage at people on the floor, desperately trying to save them. I just hope they did."
The MCB said its "prayers are with the victims".
---