Three of the UK's most prominent former cabinet ministers from across the political spectrum have urged Theresa May to drop her threat to leave the EU with no deal or risk a catastrophe for British business.
As the Prime Minister prepares to trigger Article 50 on Wednesday, ex-business secretaries Michael Heseltine, Peter Mandelson, and Vince Cable told The Independent leaving with no arrangement in place would be disastrous for British firms and jobs.
Tory Lord Heseltine branded the move "the nightmare which every Conservative prime minister for whom I have worked sought to avoid", Labour's Lord Mandelson compared it to "shooting ourselves in both feet" and Liberal Democrat Sir Vince Cable warned disruption could be "as serious as the credit crunch".
Organisations representing more than 200,000 manufacturers across the UK and Europe also warned that quitting with no deal would be "highly damaging", while the flourishing UK tech sector said it would be "chaotic".
Their comments come as Ms May prepares to deliver a letter to European Council President Donald Tusk in Brussels to officially launch Brexit talks.
Speaking in the Commons, Ms May is expected to emphasise her "fierce determination to get the right deal for every single person in this country" and call for people to unite after the divisive referendum.
But the pressure on her administration to deliver will only intensify after the letter is handed over by the UK's ambassador to the EU Sir Tim Barrow, sparking a two-year countdown before which a withdrawal deal must be struck.
If none is, the UK will drop out of the EU with no trading arrangements, potentially devastating manufacturers and their supply chains and hitting importers and exporters with major delays and extra costs. Yet Ms May has threatened to voluntarily quit without a deal, if terms offered do not meet her demands.
The three business secretaries with years of experience marshalling Britain's trade policy urged her to rethink.
heseltine.jpg
Lord Heseltine said leaving the EU with no deal is a 'folly' (PA)
Lord Heseltine told The Independent: "No sailor leaves port in the teeth of the storm. To leave Europe with no deal with our largest market would be just such a folly.
"The supply lines for our manufacturing industry in chaos. The financial supremacy of London seeping away as companies sought protection within the European market. Twenty-seven leaders sitting in the Council of Europe, without even an empty chair to remind them of Britain's national self-interest.
"It is the nightmare which every Conservative prime minister for whom I have worked sought to avoid."
In her Lancaster House speech setting out her approach to Brexit, Ms May sought to play hardball with European leaders by warning she would not be afraid of quitting talks and leaving the EU with no arrangement, saying "no deal for Britain is better than a bad deal for Britain".
Despite former Conservative Prime Minister John Major branding the 'no deal' scenario the "worst possible outcome" and reports that British officials were playing-down the threat to European diplomats, Downing Street has confirmed there is no change of position.
Lord Mandelson, leading supporter of the Open Britain campaign, said: "No deal means walking away from the negotiations while shooting ourselves in both feet.
"The results would be catastrophic for British businesses, particularly manufacturers and for our economy as a whole.
"Trade negotiations of this complexity are better conducted in the spirit of cooperation and common goals, rather than threats and points scoring."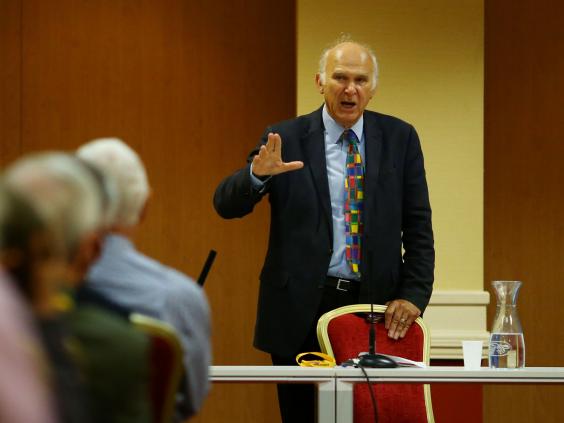 Sir Vince said that European negotiators had been misrepresented in the UK as being "bloody minded and wanting to punish us", but instead he argued that they would actually be boxed in by their own mandate, with British officials finding it difficult to move them to any other position.
He added: "The dangers of the 'no deal' scenario are very real. The threat is damaging and disruptive and playing hard to get may not be strategically wise."
He told The Independent it is a "nuclear option", more damaging to the UK than the EU, and said it would have particular implications for firms needing the fluid movement of goods in the manufacturing sector.
Sir Vince added: "It's important that the system be free of tariffs, but they have to be free of interruption and delay – once you introduce that the system breaks down.
"You had a taste of that in 2008 with the credit crunch, this could potentially be as serious as the credit crunch."