Prime Minister Theresa May has said she will trigger Article 50 on 29 March – beginning formal negotiations on Brexit. Here's a guide.
What is Article 50?
Article 50 is a plan for any country that wishes to exit the EU. It was created as part of the Treaty of Lisbon – an agreement signed up to by all EU states which became law in 2009. Before that treaty, there was no formal mechanism for a country to leave the EU.
What does it say?
It's pretty short – just five paragraphs – which spell out that any EU member state may decide to quit the EU, that it must notify the European Council and negotiate its withdrawal with the EU, that there are two years to reach an agreement – unless everyone agrees to extend it – and that the exiting state cannot take part in EU internal discussions about its departure.
It says any exit deal must be approved by a "qualified majority" (72% of the remaining 27 EU states, representing 65% of the population) but must also get the backing of MEPs. The fifth paragraph raises the possibility of a state wanting to rejoin the EU having left it – that will be considered under Article 49.
It was written by the Scottish cross-bench peer Lord Kerr of Kinlochard. He has said he thought it would be most likely used in the event of a coup in a member state and had never imagined it being used for Brexit. The full text can be found here.
When will it be triggered?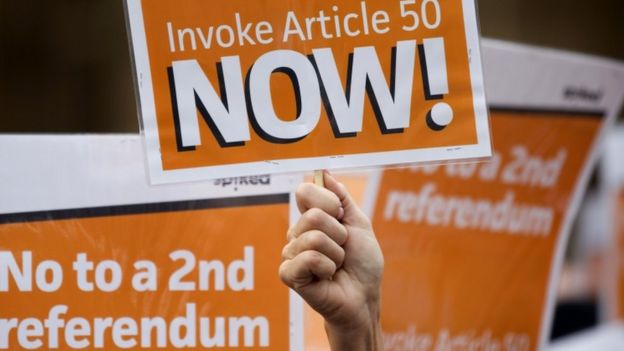 The UK, having voted to leave the European Union in last year's referendum, can decide at what point it formally notifies the European Council.
Prime Minister Theresa May first announced her plan to do so by the end of March 2017 in October last year, having argued that she did not want to rush into the withdrawal process before UK objectives had been agreed.
The government's plan to do so by acting alone using its "royal prerogative" was thrown out by the Supreme Court following a legal challenge, so it had to introduce a bill for Parliament to vote on. That passed the Commons but was amended by the Lords. That bill has now become law and Downing Street has said Article 50 will be triggered on 29 March.
What happens next?
Here is a potential timeline of events.
29 March, 2017 – UK triggers Article 50
April – European Council president Donald Tusk expected to call an EU summit of the 27 leaders (without the UK) to agree to give the European Commission a mandate to negotiate with the UK
After the EU 27 summit – European Commission to publish negotiating guidelines based on the mandate the EU leaders give it. The EU might say something about possible parallel negotiation on a future EU-UK trade deal
April/May 2017 – Negotiations begin
23 April and 7 May – French Presidential elections
24 September – German parliamentary elections
Autumn 2017 – The UK government is expected to introduce legislation to leave the EU and put all existing EU laws into British law – the Great Repeal bill
October 2018 – Negotiations conclude (The Article 50 negotiations could be extended, but this is subject to the approval of the other 27 EU member states)
Between October 2018 and March 2019 – The Houses of Parliament, European Council and European Parliament vote on any deal
March 2019 – UK formally withdraws from the European Union
http://www.bbc.com/news/uk-politics-39143978