Angelique Kerber is determined not to put too much pressure on herself at the start of a fortnight which could end with her becoming world No 1 for the first time, but the 28-year-old German could not hide her pleasure when asked about the prospect of overtaking Serena Williams.
"I love the question," Kerber smiled, in the knowledge that she can top the world rankings by matching or bettering Williams' performance at the US Open, which begins here on Monday. "But let's see what happens in the next two weeks. Of course having that chance means a lot to me, but you have to play a whole year to get that chance. You have to play really good tennis – and you have to continue to do that."
Kerber, who meets Polona Hercog in her first match on the opening day of the tournament, won her maiden Grand Slam title when she beat Williams in the final of the Australian Open in January. She reached her first Wimbledon final last month before losing to the American.
Since the latter loss Kerber has suffered disappointment in two more finals, losing to Monica Puig in the gold medal match at the Olympics and to Karolina Pliskova in the final in Cincinnati, when victory would have seen her take the world No 1 spot.
Despite those losses, Kerber is in confident mood. "I'm feeling good, because I have played some great matches in the last weeks, and had a lot of positive emotions," she said.
If Williams is knocked off her perch at the end of this tournament she will be left stranded on 186 consecutive weeks at the top of the world rankings, which would equal Steffi Graf's record on the women's tour. Because Williams is defending more points here than Kerber – the American reached the semi-finals 12 months ago while the German went out in the third round – the six-times champion will have to reach the last four again to have any chance of staying ahead of her. Should Williams and Kerber both falter, either Garbine Muguruza or Agnieszka Radwanska could overtake both of them.
Williams admits that her preparations for her home Grand Slam event have been far from ideal. She pulled out of Cincinnati with a shoulder injury and has played only one tournament since Wimbledon, losing to Elina Svitolina in the third round of the Olympics.
Kerber, meanwhile, said that she had barely discussed the prospect of topping the world rankings with her coach, Torben Beltz. "I don't want to put too much pressure on myself," she said.
It was here at the US Open in 2011 that Kerber made one of her most significant breakthroughs, at a time when her career appeared to be going nowhere. Ranked No 92 in the world, she had fallen at the first hurdle in the previous four Grand Slam events and earlier in the season had lost in the first round of 11 out of 12 tournaments. At Flushing Meadows, however, she beat four higher-ranked opponents to reach the semi-finals.
By the start of last year, nevertheless, Kerber had still won only three titles. In 2015, however, she moved up a gear, winning four tournaments. A trip to Las Vegas to see Graf, her childhood idol, inspired her to new heights before an experience at the end-of-season WTA Finals proved a catalyst for her breakthrough at the Australian Open.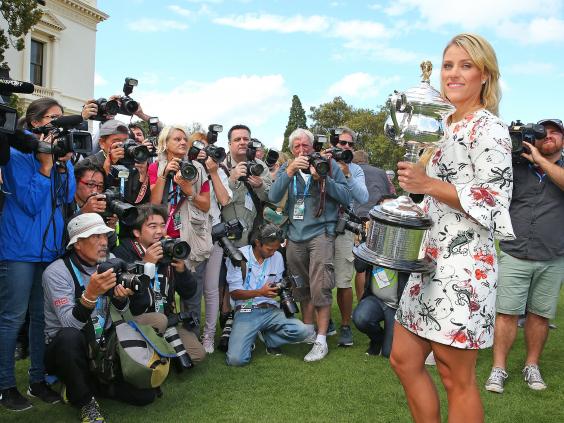 Kerber needed to win only one set in her last round-robin match in Singapore, against Lucie Safarova, to reach the semi-finals of the showcase event, but was beaten in straight sets. "After that I told myself that I would never let pressure get the better of me again," she said. "I tried to use that experience from Singapore and change my mentality."
Interest in Kerber back in her home country has been huge, but in terms of dealing with those pressures it probably helps that she lives in Poland. She has a strong Polish background on both sides of her family and three years ago moved across the border from Kiel, where she grew up, to Puszczykowo, a town near Poznan. She trains there at a tennis centre named after her which is run by her grandfather, who has been one of the biggest influences on her career.
"He always believed in me and has always supported me," Kerber said. "He's always been a very close person to me. I think without him and my grandmother I wouldn't be here. There were a lot of tough moments in my career when I was wondering what I should do and they always said: 'If this is what you want to do, just do it.' They have always been behind me."
Kerber has German and Polish passports. The Polish tennis authorities have tried in the past to claim her as one of their own, but Kerber insisted: "I feel German, that's for sure. I grew up in Germany, I went to school in Germany and most of my friends are there. I play for Germany and there's no question about me not being German."
http://www.independent.co.uk/sport/tennis/us-open-angelique-kerber-serena-williams-world-no-1-a7214461.html